Next CD
Previous
Go to the Page on CDs
Go to Main Menu
CD 731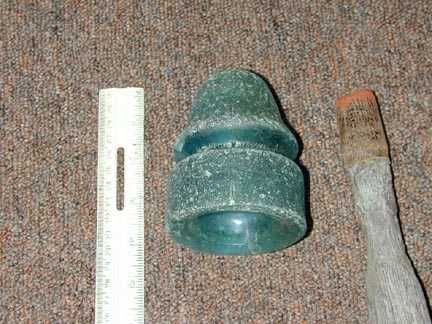 In a July 2000 e-mail, John Rakeshaw, a Naturalist with the Greene County (Ohio) Park District, reported finding the CD 731 pictured above. He wrote that:
"The insulator is NOT THREADED, and traces of burlap can be seen on the
wooden peg. The color is pale green, perhaps with a hint of teal. The
shape can best be described as bell-like, with no extra curves or
protrusions, except, of course, the channel for the wire. The only
marking on the isulator is a small capital "M" (or is it a "W"?) on the
top. The insulator was found in Little Beaver Creek in Beavercreek
Township. The park is along the Creekside Bike Path, which follows the
old railroad line between Xenia and Dayton."
In a later e-mail he added:
"I ran across a local historian last weekend who told me the former railway along which
I found the piece was built in 1851. He thought the telegraph lines were
probably installed at the same time."